Embrace Endurance and Elegance with Quartzite: Discover Ecenza Blue Quartzite at StoneX USA
Unveiling a timeless marvel of nature's endurance and beauty, StoneX USA proudly presents the captivating Ecenza Blue Quartzite. As a new addition to our collection, this stone is set to redefine the possibilities of design. Explore the remarkable qualities that make quartzite a true masterpiece and let your creative visions take flight.
The Enduring Allure of Quartzite:
At StoneX USA, we believe in offering you the finest natural stone options that not only elevate your living spaces but also stand the test of time. Quartzite, with its unparalleled durability and breathtaking aesthetics, is nature's ultimate answer to both elegance and endurance.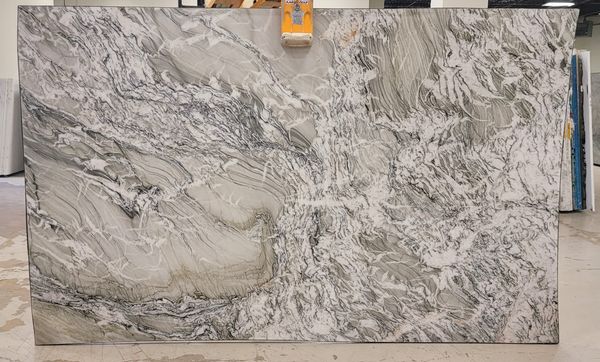 Introducing Ecenza Blue Quartzite: A Mesmerizing Delight
Our latest treasure, the Ecenza Blue Quartzite, is a celebration of nature's artistry. The stone boasts a delicate, pale blue backdrop adorned with deep blue and golden veins that dance gracefully across its surface. This harmonious interplay of colors creates a captivating visual display that is nothing short of mesmerizing.
A Perfect Marriage of Colors and Design Elements
With 12 slabs available from Bundle# 215, Ecenza Blue Quartzite offers endless design possibilities. Its versatile palette perfectly complements an array of cabinet options, including golden, cream, pine, honey oak, blue, or dark walnut. The stone's character and distinctive elements add a touch of sophistication to any space, making it an ideal choice for both kitchen design projects and accent stone applications.
Be the Envy of Design: A Focal Point Like No Other
The Ecenza Blue Quartzite is more than just a stone; it's a statement. Elevate your kitchen to a realm of elegance as this stone takes center stage. Its captivating allure is guaranteed to draw attention and become the focal point of your interior design, be it through countertops or accent walls.
Limited Stock, Lasting Beauty: Act Now
Seize the opportunity to incorporate the Ecenza Blue Quartzite into your designs. With limited stock available, now is the time to explore the charm of this exquisite stone. Feel free to visit us at StoneX USA, where creativity knows no bounds. No appointment is necessary; our doors are open six days a week to welcome you.
Unlock the Potential: Your Vision, Our Stone
Embrace the endurance and elegance of quartzite with Ecenza Blue. Visit stonexusa.com to discover more about our collection and explore the limitless potential of this exceptional stone. Let your imagination run wild as you create stunning spaces that reflect your unique style.
Nature's gift of quartzite is a testament to its lasting beauty, and the Ecenza Blue variety is a shining example. Experience the harmony of colors, the strength of endurance, and the magnificence of design all in one stone. Let your journey of transformation begin with StoneX USA and Ecenza Blue Quartzite.
Hashtags: #stunningquartzite #quartzitecountertops #bluequartzite #designelements #uniquestone #gorgeousstonecountertops #kitchenremodel #kitchenideas #kitchendesign #stone #naturalstonecountertops #countertopoptions #stonexusa #bluecountertopstone
---