Welcome to StoneX USA, where we bring you the finest selection of natural stone countertops. In this blog post, we are thrilled to introduce our newest addition, Ecenza Blue Quartzite. This mesmerizing stone showcases a captivating display of deep blue and golden veins flowing gracefully across its delicate, pale blue backdrop. With its enduring beauty and unique characteristics, this quartzite is set to become the centerpiece of any kitchen design or wall accent project. Let's delve into the allure of quartzite and discover why it is nature's answer to endurance.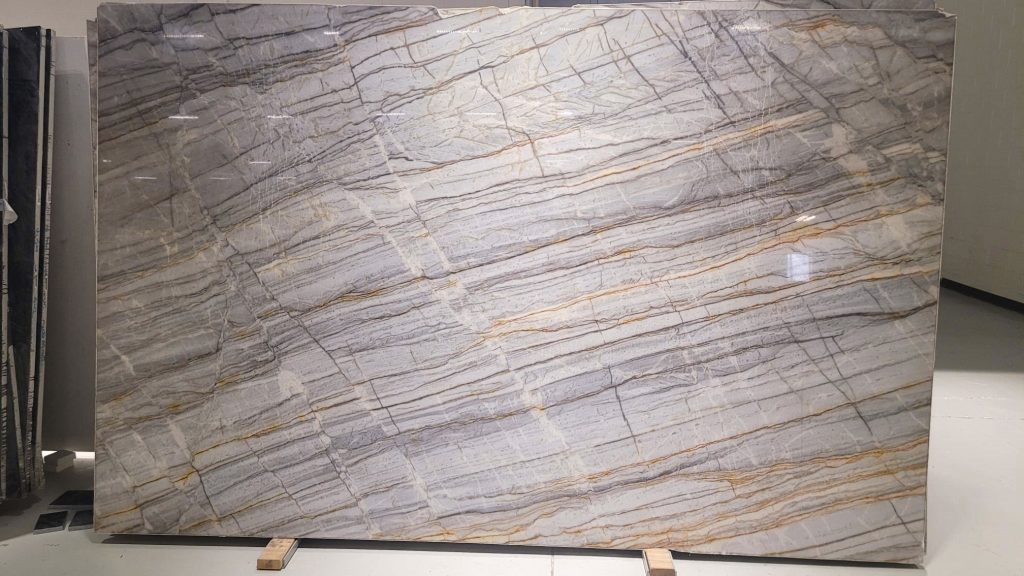 Ecenza Blue Quartzite: Unraveling Nature's Artistry
Description: Ecenza Blue Quartzite is a true testament to the artistic wonders of nature. Its exquisite blue and golden veins create a breathtaking display that will leave you in awe.
Enduring Beauty: Quartzite, known for its exceptional durability, makes it an ideal choice for countertops that withstand the test of time. Embrace the elegance of this stone in your kitchen design or accent wall applications.
A Symphony of Colors: Designing with Ecenza Blue Quartzite
Description: The unique color combination of Ecenza Blue Quartzite offers a symphony of colors that effortlessly blend with various cabinet and interior design styles.
Versatility in Design: Whether your kitchen features golden, cream, pine, honey oak, blue, or dark walnut cabinets, Ecenza Blue Quartzite complements a wide range of design elements. Unleash your creativity and let this stone be the canvas for your design dreams.
The Focal Point of Elegance: Elevating Your Kitchen Design
Description: Ecenza Blue Quartzite's captivating patterns and hues ensure it takes center stage in any kitchen project.
Kitchen Transformation: Enhance your kitchen's elegance and functionality with this stunning quartzite. Its unique character and versatility make it an excellent choice for both modern and traditional kitchens.
Limited Stock: Embrace the Opportunity
Description: As a new color stock item, Ecenza Blue Quartzite is available with limited stock.
Act Now: To secure this exquisite stone for your project, make plans to visit our showroom soon. No appointment necessary, as we are open six days a week. Don't miss out on this unique opportunity!
Conclusion: Ecenza Blue Quartzite exemplifies the enduring beauty of quartzite, offering a symphony of colors and design potential. At StoneX USA, we take pride in presenting you with exclusive stones that inspire creativity and elegance in your living spaces. Visit stonexusa.com or stop by our showroom to explore the mesmerizing beauty of this stunning quartzite. Create a kitchen design or accent wall that stands the test of time with nature's answer to endurance.
Hashtags: #StoneXUSA #Quartzite #EcenzaBlue #NaturalStoneCountertops #EnduringElegance #KitchenDesign #KitchenRemodel #StoneShowroom #DesignInspiration #Nature'sArtistry #UniqueStone #KitchenIdeas #BlueQuartzite #StoneEnvy #GorgeousStoneCountertops #StoneMagic #StunningQuartzite #CountertopOptions #HomeInteriors #InteriorDesign #StoneExperts #HomeRenovation #StoneTextures #KitchenGoals #StoneLove #StoneCraftsmanship #StunningSurfaces #DesignElements #StoneMasterpieces #StoneAccentWall #StoneElegance #KitchenMakeover #StoneLovers #StoneBeauty #QuartziteCountertops #StoneTransformation #InteriorDecor #KitchenInspo
---